Information - General Info
---
St. Albert Rams Lacrosse Club and Local Lacrosse
St. Albert Rams Lacrosse Club is a minor lacrosse association that is part of the Greater Edmonton Lacrosse Council (GELC) and operates from March to July each year. Other minor box lacrosse clubs within the GELC include: Beaumont Raiders; Fort Saskatchewan Rebels; Leduc Crush; North Edmonton Wizards; Parkland Posse; Sherwood Park Titans; South Edmonton Warriors; West Edmonton Blues; and Westlock Rock. The Rams have teams in all age divisions, U7 through U17.
St. Albert also has three major lacrosse teams: the Junior B Tier I and Junior B Tier II Crude; and the Junior Ladies Drillers. They all play in the Rocky Mountain Lacrosse League (RMLL).
The Club is always looking for new people. There are opportunities to participate as a Board Member, Official, Coach, Manger, Trainer or as one of the many other valuable volunteers required to make our teams, Club, and sport operate successfully. There are a series of coach and referee clinics conducted each year within the Edmonton area.
The GELC will be operating the same program in 2023 as was offered in 2022; progressively returning to a Parity Plus system. The Division names have changed for 2023 to align with Lacrosse Canada which has standardized these for all lacrosse disciplines and correlate with other sports. The 2023 season will offer "A" intent at U13, U15, and U17 however, these three leagues will only operate if there are enough players to form adequate number of teams. All other teams at these age Divisions will be formed based on parity, i.e. there will be no B and C levels. The team selection process for these teams will be the same as the one used last season and is used for the U9 and U11 Divisions; through a snake draft based on evaluation results.
Season Details
The Rams operate out of Servus Credit Union Place and Jerome Iginla/Kinex Arenas in St. Albert. There are occasions where the Rams may use facilities in Morinville and CFB Edmonton. The Rams are one of three Clubs in Zone North which includes the North Edmonton Wizards and Fort Saskatchewan Rebels. All "A" level teams, U13, U15, and U17, will be formed with players from all three Clubs. If there are not enough or too many players to form subsequent teams at each of these age Divisions, the parity teams may also be formed with players from two or more of the Zone Clubs. The Zone teams could be hosted out of any of the three locations meaning St. Albert players could be based out of North Edmonton or Fort Saskatchewan for the season. The U7, U9, and U11 Divisions will all be based out of St. Albert facilities for all practices and home games.
Evaluations occur during the first two weeks of March; the preseason runs from mid-March to mid-April and the GELC regular season is from mid-April to end-June with playoffs following and concluding before Provincials. The following table details the days of the week and times, by Division, that practices and games are normally scheduled in St. Albert. These times are subject to change based on floor availability and the GELC game schedule however, whenever possible, every effort will be made to schedule according to these days and times.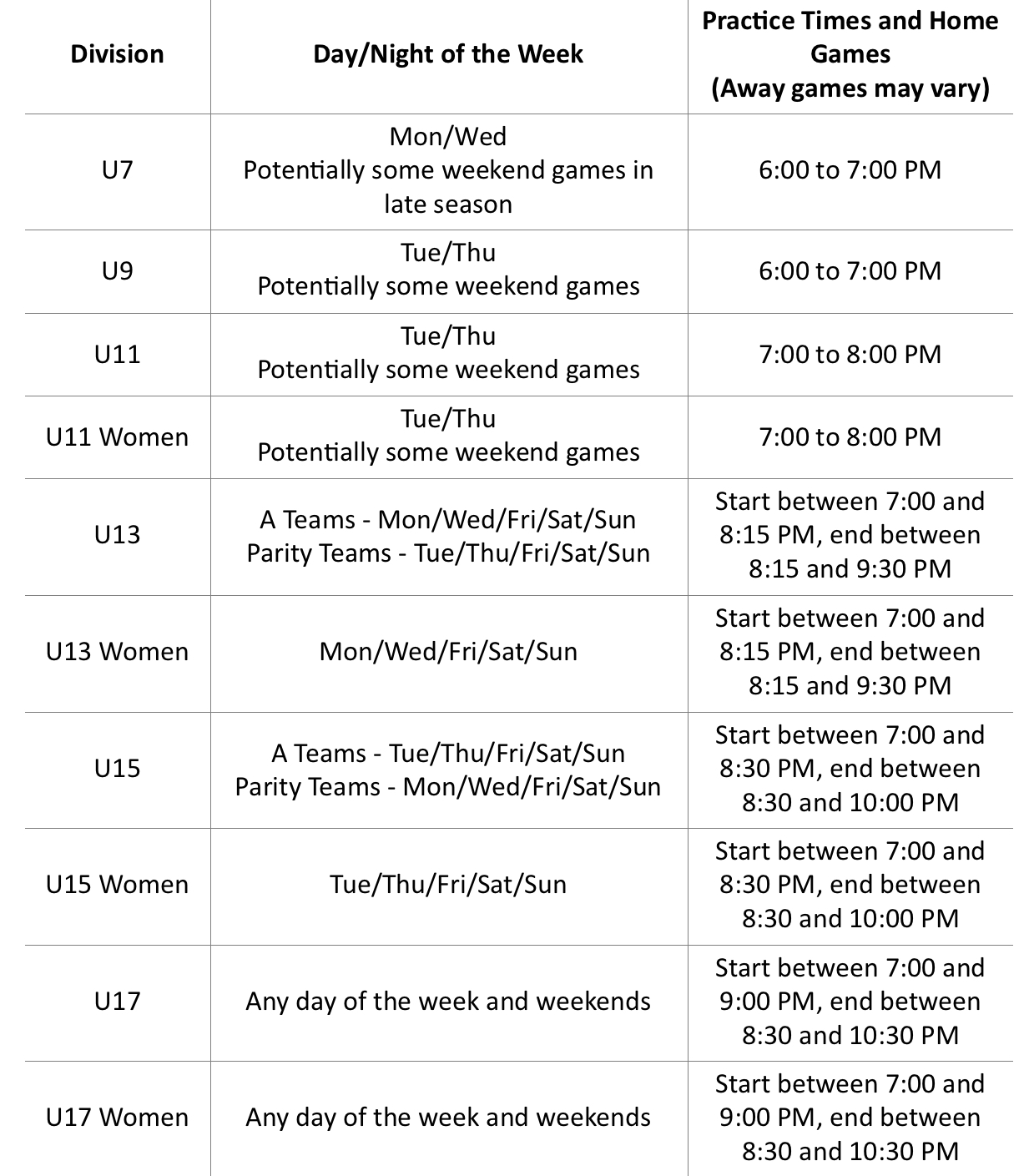 Equipment Requirements
The GELC is a member of the Alberta Lacrosse Association (ALA) which is governed by Lacrosse Canada (formerly the Canadian Lacrosse Association (CLA)). The ALA reintroduced contact at younger age Divisions in 2017 which now includes "equal pressure" to be used at U7, "place-and-push" at U9 and unmodified contact at U11. Therefore, full equipment is required for all Divisions which consists of the following: helmet (NOCSAE or CSA approved), cage/mask (Lacrosse Canada approved), protective gloves, shoulder and arm (elbow) pads, back/kidney protector, mouth guard, and a jock or jill strap. Running shoes and a stick are also required and kneepads are optional. Hockey equipment can be used except for the kidney protector which is unique to lacrosse. However, lacrosse specific equipment provides better fit, protection, flexibility, and dexterity. This is particularly true of items such gloves and arm guards. There are also lacrosse specific cages (masks). There are youth lacrosse sticks that have a thinner handle and slightly smaller head and at U7 and U9 the sticks can be as short as 26 inches (66.0 cm). At U11 and U13 sticks cannot be any shorter than 34 inches (86.4 cm) and at U15 and above sticks cannot be shorter than 40 inches (101.6 cm) nor longer than 46 inches (116.8 cm).
The following is a list of some of the local retailers who carry various selections of lacrosse equipment and sticks:
Source for Sports St. Albert. https://www.sourceforsports.ca/pages/st-albert-source-for-sports. Have a selection of lacrosse equipment and carry everything required to completely outfit a player This store is located at 580 St. Albert Trail, St. Albert; phone number is 780 458 0000.
Sportchek St. Albert. http://www.sportchek.ca/. Have a small lacrosse section with a selection of sticks and some equipment. The store is located at 375 St. Albert Trail, St. Albert; phone number is 780 460-0220.
United Cycle. https://unitedsport.ca/pages/shop-best-lacrosse-equipment-sticks-balls-edmonton-canada. A large selection and variety of lacrosse equipment and carry everything required to completely outfit a player. In most cases, if not in stock, they are willing to order. They are located at 7620 Gateway Blvd, Edmonton; phone number 780 433 1181.
Canadian Tire. https://www.canadiantire.ca/en/sports-rec/team-sports/lacrosse.html?adlocation=LIT_TeamSports_Lacrosse_en. Basic gear and typical Canadian Tire level of equipment; limited selection and variety. The St. Albert store is located at 40 Bellerose Drive, St. Albert; phone numbers is 780 459 5545.
Totem Outfitters. https://totemoutfitters.ca/summer-gear Carry both new and used sports gear and have a good selection of lacrosse equipment and sticks. If unsure about spending money on new gear this is a great option to purchase used equipment; availability varies. They are located at 7430 99 St., Edmonton; phone number is 780 432 1223.
Slash Lacrosse: https://www.slashlacrosse.ca. Is the closest lacrosse specialty store to St. Albert and carry a wide range of both player and goalie equipment. They are fully stocked on site year round. They are located at #103-303A Larch Close, Red Deer County; phone number is 403 347-5274.
Fundraising
Fundraising is absolutely essential in order for the Club to operate and keep registration fees down. The main fundraiser for the St. Albert Rams is the annual Baggataway Tournament. The other critical aspect to the Rams' program is the volunteer shifts which occur throughout the year and could include bingos, casinos, representing the Rams at Canada Day or Sports Day, as well as Rams' events such as evaluations and the Baggataway Tournament. Volunteer commitments are mandatory for every player's family or they will be assessed a $200 fee. The Club volunteer commitment must be completed by the evaluation period of the next season. In addition to the events mentioned above, volunteer commitments can also be credited for filling the following Club and team positions:
Member of the Board of Directors
Head Coach
Manager
First time Assistant Coach if completed the Community Development Clinic that year
Club volunteer shifts are approximately four to six hours in duration but could be as long as eight hours. Additional volunteer credit may be given to a Club member who has already completed their initial volunteer commitment as follows:
Four to six hour shift - $75
Over six hour shift - $100
Additional details regarding volunteer commitments can be found in the St. Albert Rams' Regulations located on the Club's web page.
Important Dates for 2023
16 February - Zone Pre-evaluation meeting
26 February to 12 March - Evaluations
13 March to 23 April - Rams Preseason
16 March - Rams pre-season coaches and managers meeting
24 April - GELC Season Starts
9 to 11 June - St. Albert Rams Jeremy Richardson Memorial Baggataway Tournament
17 to 18 June - GELC Timbits Wrap up Tournament
26 June - GELC Playoffs Start
6 to 9 - July Minor Box Lacrosse Provincials, Edmonton
14 to 20 August - Minor Box Lacrosse Nationals, Regina, SK
Lacrosse Links
Greater Edmonton Lacrosse Council - http://gelc.ab.ca
Alberta Lacrosse Association - http://www.albertalacrosse.com
Lacrosse Canada - https://www.lacrosse.ca
World Lacrosse - https://worldlacrosse.sport
Rocky Mountain Lacrosse League - http://www.rockymountainlax.com
National Lacrosse League - http://www.nll.com